Pressure Washing – Maintenance Plans
Cleaning and Pressure Washing
Keeping your property looking it's very best can sometimes come down to simply keeping it clean. Pressure washing the exterior can wash away dirt and other harmful elements and bring back curb appeal to clients. But did you know that keeping the surface of your building clean can help in different ways?
What does cleaning the exterior of a building help you?
Curb Appeal
Maintain Warranty from Paint Manufacturer

Keeping

Surface Clean Reduces Foreign Growth on Structure
Let's retake a moment to talk about curb appeal. Perception is everything from potential clients to homeowners who want to ensure their home looks clean and fresh. While cleaning the surface can help us see the natural or painted surface underneath, the other reasons to keep the exterior clean can be even more important.
Depending on the company who provides your painting services or even the product applied to protect the surface, your warranty may demand you keep your exterior clean. For this example, let's use paint for the surface of the building. While your paint may claim to last you seven years for a warranty, it may also require you to keep the surface clean. Why would this matter? Well, let's presume that the paint does everything it says it can do, but if there is mildew, mold, or other foreign objects on top of the paint, it can start to lose its ability to do its real job, protecting the exterior from water intrusion. If growth is not removed, the paint understandably cannot do what it was engineered to do.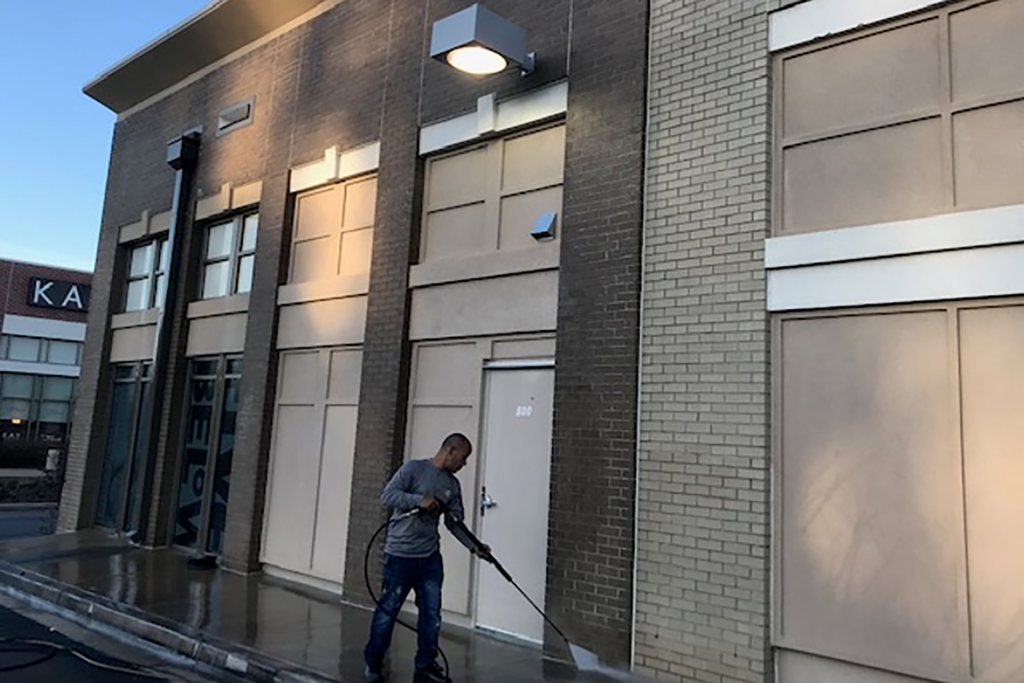 What other surfaces need to be cleaned routinely?
Brick Walls
Stone or Stone Facades
Pavers
Sidewalks
Awnings
Many other surfaces should be addressed on a routine basis to keep them looking their best and allow them to have the most extended life possible. Sidewalks, for example, can expose safety issues if not kept clean. Spills and other foreign object on the sidewalk or parking lot surface can increase liability to the owner and incur future increases in insurance premiums. Pavers are another surface that, if not kept clean, can be unsightly and create unsafe conditions for patrons. Having this work completed automatically on a maintenance plan often provides peace of mind for property owners and managers that the property is being maintained and that trained team members are keeping an eye open for other potential issues. We communicate with property management and project managers about any potential problems we see so they can be addressed quickly if needed.
Awnings can be made of different materials such as metal, wood, and even fabric. All of these need to be cleaned routinely as accent colors are often lighter than the building colors. These awnings stick out on average more than just the buildings themselves when dirty.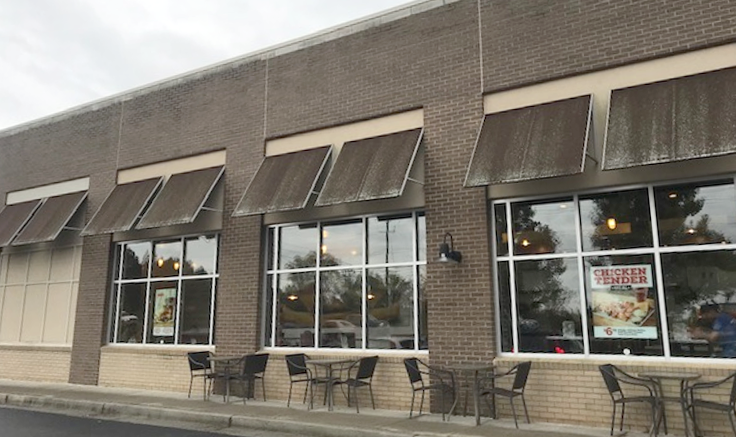 How can you keep your property looking its best with the least effort?
Our skilled team can provide a plan to pressure wash and maintain your property on a quarterly, semi-annual or annual basis. Reach out to us, and we can give you a custom quote that will provide precisely the requirements you are looking for your property.
Why is Sierra Development and Construction your go-to company for property maintenance?
Our team has over 20 years of experience painting residential and commercial properties. While no company is perfect, we believe in doing the job right the first time. One of our core values is "Excellence in the Ordinary," which guides us to do all the little things right on each job site. Your home would be no different, and we aim to make repainting your home seamless and easy. We have the proper insurance, including Workers' Comp and the licensing required to work on your home. And while we repaint homes, we also repair water intrusion. Seeing the devastating results of a home without proper protection, we know all the steps to ensure your home stays safe and protected for years to come.
20 Years of experience in repainting homes
Commercial and residential contactor
Licensed and insured
Semi-annual Maintenace packages available to maintain your home
5-star reviews on Google
What questions should you ask a potential painting contractor?
Ask questions. This is your right as a homeowner to ensure companies working for you are serving you in the way you deserve. Also, reduce the possibility of liability by taking the time to get some basic questions answered below.
Do you have insurance? Ask for a copy, ensure they carry Workers' Compensation
Are you licensed? Ask for a proof
Can you provide references?
How long have you been in business?
What paint will you use, and how long will it last?
Is there a warranty on the paint? Does that include labor?
How long should the job take?
What is your payment schedule for the job?

Who will be my direct contact for my job?
We have served central Florida and surrounding communities. Lakeland, Daytona Beach, Oviedo, Windermere, Miami, Tampa, Jacksonville and more.
See some of our other recent work below.
Repainting apartment complexes can bring a new and fresh look to this residential space. But also, being able to provide protection against the weather is even more important to many owners. The damage that could occur from the weather can displace tenants and create significant costs for ownership. We recommend having the property inspected at…