Commercial Retail Painting
5 Reasons to Repaint Your Commerical Property
Painting a commercial property has much more to do with just a color change. Paint is the first line of defense against the elements in protecting a structure. Depending on the paint used they have different properties that make them better suited for certain situations. Understanding the types of paints and the exteriors being painted can be crucial to ensure that the longevity of the paint job.
Increased Curb Appeal
Perception can be everything to potential customs. Many customers will attribute how the exterior of the property is being maintained to how well the business is run on the inside. What a shame it would be to have a great product or service, but potential customers never walk in the door due to a poorly maintained property.
Repairing Existing Damage
Before any painting takes place, the exterior must be thoroughly inspected. The goal is to ensure that the surface is cleaned and ready to receive paint and that any cracks, holes, or other issues are addressed and repaired beforehand. While some contractors will not do this entirely, we ensure that the exterior is considered whole, and repairs will ensure the entire surface is ready. This can increase the life of the paint and reduce the possibility of issues down the road. While we are happy to provide free inspections to our clients, having this part of our repainting process helps bring peace of mind to our clients. Depending on the type of exterior, your surface may need different levels of attention. It is common to have stucco cracks, even holes drilled into the exterior. We often see the wrong type of screws applied to exterior buildings and no protection such as caulking added to prevent water intrusion. The inspection process and repair before painting begins can make all the difference in the world.
Stucco Repair
Masonry
Wood Repair
Prevent Any Future Facade Damage
And important aspect of preventative maintenance is of course protecting the exterior from water and weather. Cosmetic aspects of buildings such as a facade is a key area to pay attention to. If the exterior is not painted routinely the water and weather can make its way inside your building allowing for the growth of mold and mildew. Ensuring that you have a contractor with experience in painting and repairing buildings that have encountered water intrusion can be beneficial.
Increase Property Value
Your property's exterior look and feel make a massive difference in a prospective buyer's mind. Having a fresh coat of paint alone can help go a long way to entice potential customers, tenants, and potential ownership groups.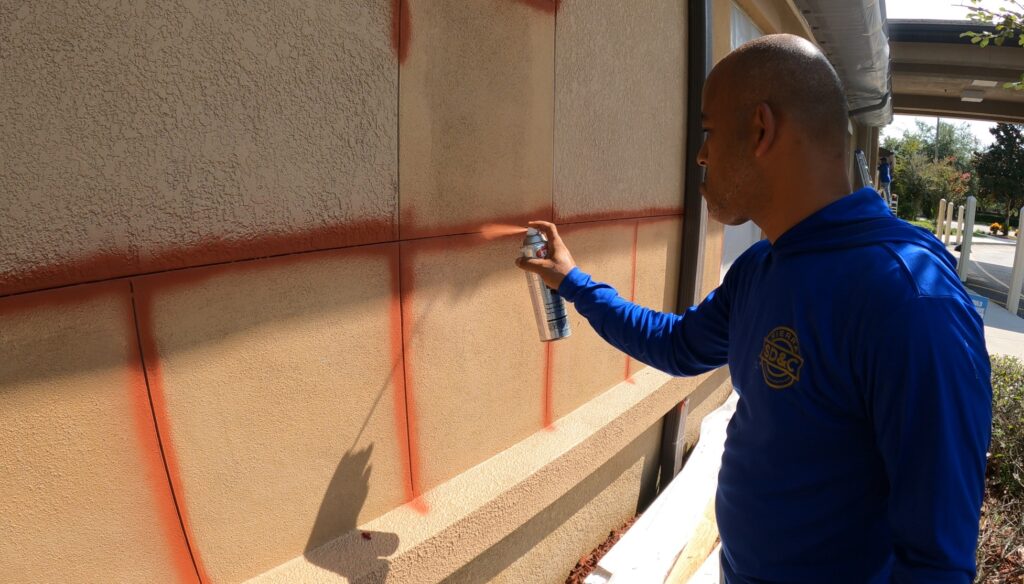 Increase Customer Traffic
A fresh coat of paint is very noticeable especially to your customer base. Not having a paint that is fresh and appealing can significantly deter new customers as well. Being up to date in a color scheme, appearance and overall feel for your building can be the difference between you and your competition.
When should you repaint your building?
We get this question quite often. While some paint companies provide direction on how long their product should last, it comes down to the preparation and how the paint was applied. We love Sherwin-Williams paint and have used it on hundreds of properties. But the paint is only as good as the company that applies it. You can apply the best paint in the world to a surface, but if it is not prepared, how long will it stay and protect the building? While be use the spray and roll method, we also follow all guidelines for preparing the surface to ensure the paint lasts as long as possible.
We offer free inspections because every property is different. The amount of sun and exposure to the elements can make a difference. Your building may be located in an area where stucco applied may start to crack. If this does happen, the cracks should be addressed quickly. Please read our article here about stucco cracks to learn more.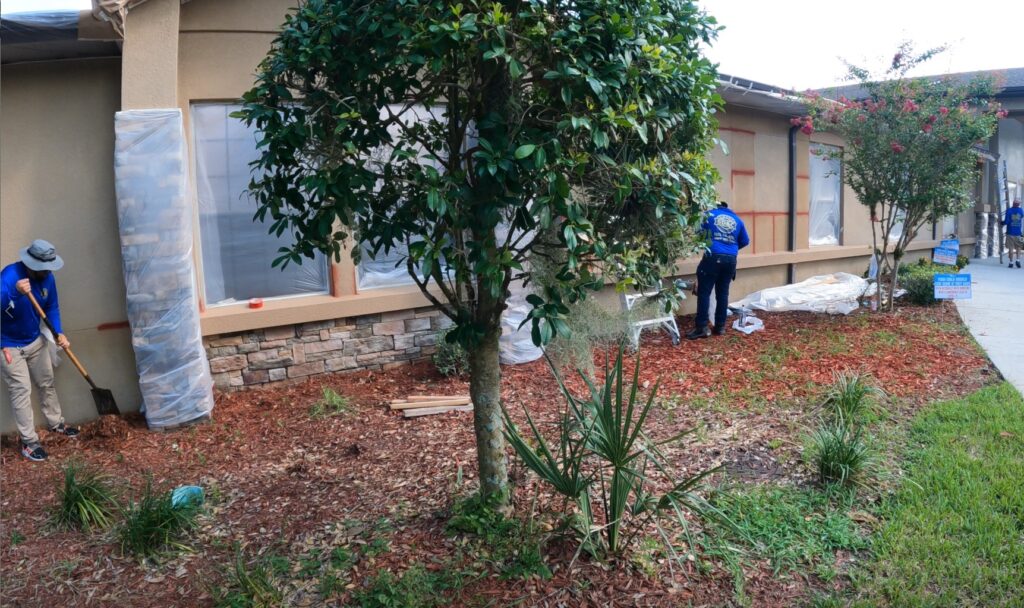 Why is Sierra Development and Construction your go-to company to paint your commercial shopping center or business?
Our team has over 20 years of experience painting commercial properties. While no company is perfect, we believe in doing the job right the first time. One of our core values is "Excellence in the Ordinary," guiding us to do all the little things right on each job site. Your property would be no different, and we aim to make repainting your building seamless and easy. We have the proper insurance, including Workers' Comp and the licensing required to work on your property. And while we repaint the structure, we also repair water intrusion. Seeing the devastating results of a home without proper protection, we know all the steps to ensure your structure stays safe and protected for years to come.
Over 15 years of combine experience in painting commercial shopping centers

Licensed and insured

Semi-annual Maintenace packages available to maintain for your business
Questions You Should Always Ask Your Potential Commercial Painting Company
Do you have insurance? Ask for a copy, ensure they carry Workers' Compensation
Are you licensed? Ask for a proof
Can you provide references?
How long have you been in business?
What paint will you use, and how long will it last?
Is there a warranty on the paint? Does that include labor?
How long should the job take?
What is your payment schedule for the job?

Who will be my direct contact for my job?
We have served central Florida and surrounding communities. Lakeland, Daytona Beach, Oviedo, Windermere, Miami, Tampa, Jacksonville and more.
See some of our other recent work below.
Repainting apartment complexes can bring a new and fresh look to this residential space. But also, being able to provide protection against the weather is even more important to many owners. The damage that could occur from the weather can displace tenants and create significant costs for ownership. We recommend having the property inspected at…